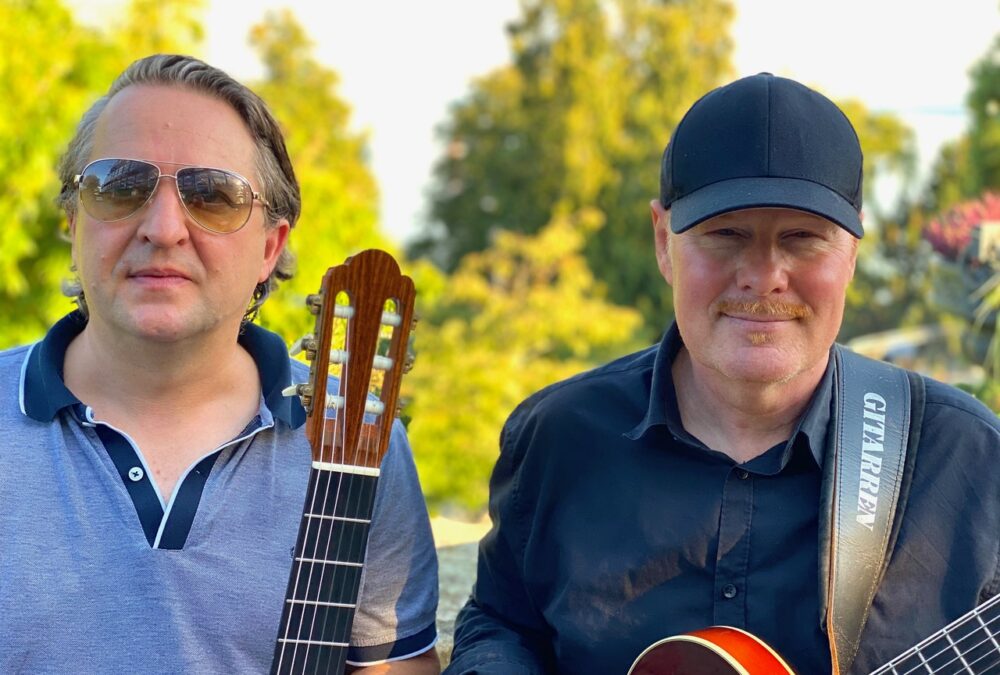 Paulo Morello (g) | Ulf Wakenius (g)
Ulf Wakenius / Paulo Morello duo
Paulo Morello – guitar
Ulf Wakenius – guitar
The exceptional guitarists Ulf Wakenius and Paulo Morello share a deep love of jazz and Brazilian music – over the years both Morello and Wakenius have played with the "Who's Who" of the Brazilian and American music scene.
Since 2019, the two have been playing together, mainly as a duo.
In doing so, they take into account all those qualities that make jazz and Brazilian music unmistakable and strong: with the springy lightness inherent in Brazilian music. With the sophistication, intensity, and speed of jazz. And with a naturally virtuosic, joyfully fluid ease of making music that only those who are absolute masters of the instrument and genre of their choice can achieve.
Paulo Morello is considered one of the most interesting jazz guitarists in Europe. This is evident in his successful international projects with trumpet star Randy Brecker, bossa nova legend Leny Andrade and the Night Of Jazz Guitars with the late Larry Coryell. Morello has made guest appearances with them at the most important European and South American festivals. He has also worked with Jimmy Smith, Bob Mintzer, Paul Kuhn, Billy Cobham, Airto Moreira, Philip Catherine and Pat Martino. Morello teaches as a professor for jazz guitar at the Jazz Institute Berlin and the University of Music Nuremberg.
Ulf Wakenius was a guitarist in the legendary Oscar Peterson's quartet for eleven years, until his death in 2007; he also played for years with bassist Niels-Henning Ørsted Pedersen. On his recordings as a leader, the virtuoso guitarist often shows his quiet, melodic side, mostly on the acoustic guitar – with arrangements of the music of Esbjörn Svensson or Keith Jarrett as well as in his atmospheric, often world-music colored compositions of his own. Wakenius has played with Pat Metheny, Sivuca, Michael and Randy Brecker, Ray Brown, Jack DeJohnette, Bill Evans and Bob Berg, among others.