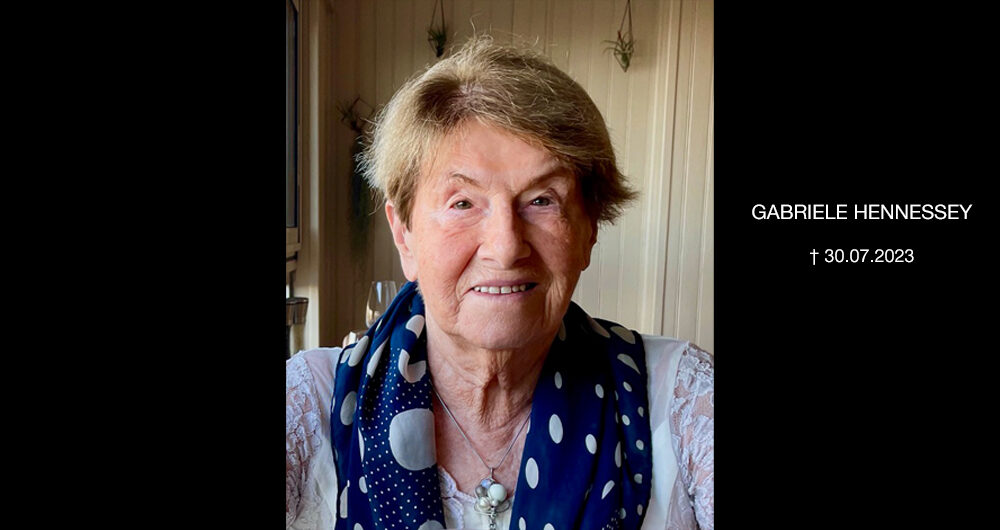 Wir trauern um eine großartige Frau und das Herz und die Seele von GKP Promotions. Mit ihrer warmherzigen natürlichen und auch immer mütterlichen Art hat sie nicht nur in der Jazzwelt deutliche Spuren hinterlassen.
Wir vermissen Sie unendlich und werden sie immer in unserem Herzen behalten.
We mourn the loss of a great woman and the HEART & SOUL of GKP Promotions. With her warm-hearted natural and motherly manner, she left clear marks not only in the jazz world.
We miss her immensely and will always keep her in our hearts.
Kondolenzbuch • Book of Condolence
36 entries.
My first jazz concert was with Dollar Brand(1981) by Gaby..wonderful person still sad !
Der ersten Begegnung mit Gaby hat Mike Hennessey einen Song gewidmet. Es ist wohl die einzig gebührende Art, Gaby in all ihrer Komplexität gerecht zu werden. Ich werde sie sehr vermissen, diese kleine mutige Frau, die den Jazz nach Europa geholt hat. Die Nachricht von ihrem Tod erreichte mich leider spät und umso überraschender. Wie gerne hätte ich noch einmal in einem Konzert neben Gaby gesessen, von Zeit zu Zeit von ihr einen kleinen Knuff in die Seite bekommen und einen Kommentar zur Musik. Wir hätten danach ein "Schlückle" getrunken und sie hätte Menschen zusammen gebracht, die etwas miteinander anzufangen wüssten. Das war reinste Magie. Sie war ganz und immer mit allem, was sie als Person ausmachte, bei der Musik. Für ihre Musiker hat sie gebrannt und gekämpft wie eine Löwin, instinktsicher auf der Skala zwischen mütterlicher Fürsorge und, wenn es nötig wurde, knallhartem Durchsetzungsvermögen. Dafür habe ich Gaby, diese eigentlich kleine und zarte Person, bewundert. Es bleibt ihr Geheimnis, wie sie es geschafft hat, ein großes Ensemble wie das Sun Ra Arkestra über Dekaden hinweg und über den Tod von Sun Ra hinaus, so erfolgreich zu promoten. Sun Ra selbst hat einmal gesagt, es sei ein Ding der Unmöglichkeit, ein so großes Orchester zu leiten. Gaby hat als Konzertagentin das Unmögliche möglich gemacht. Mir hat sie die Tür in den Kosmos Sun Ra geöffnet und ich bin ihr endlos und für immer dankbar dafür. Gaby hat es auch verstanden, den Funken an ihren Sohn Frank weiterzugeben. Es tröstet mich, dass Gaby Kleinschmidt Promotions als ihr Vermächtnis bleiben wird, gerade so, wie das Sun Ra Arkestra geblieben ist. Danke für alles!
Als einer der künstlerischen Leiter der "Jazztime Hildesheim" habe ich nur die besten Erinnerungen an die großartige Gaby. Durch sie haben wir in Hildesheim zahlreiche Jazz-Legenden präsentieren können. Mehr als 20 Jahre lang hat Gaby uns großartige Künstler vermittelt und ist auch mehrfach bei unserem Festival als Gast dabei gewesen. Wir haben tolle gemeinsame Zeiten erlebt. Gaby, Du bist nicht weg, Du bist jetzt nur woanders! Man sieht sich! Waldemar Lorenz
A unique blend of Schwäbische Geschäftstüchtigkeit and a deep love for Jazz. Thank you Gaby, it was good working with you! Hugo Faas, Promoter and Manager for Jazz and Worldmusic
My heartfelt condolences to Frank and the friends and family of the One and Only Gaby Kleinschmidt. She brought The DIVA Jazz Orchestra to Germany, France, Italy, Switzerland, Croatia, the Netherlands, England and more...booking us on many incredible festivals at some of the world's most amazing venues. I'll never forget her warm and wonderful parties at her home that made everyone feel like family. She was a great cook, very funny and made everyone feel welcome and loved. I will always be grateful for her enthusiastic belief in my bands, her friendship and her mission to keep the world swinging. Rest in Peace you amazing human and Thank you for everything! You are truly missed. Love and Gratitude Always!
Gaby war einzigartig, ich werde sie nie vergessen. Eine grossartige Frau.
We had the pleasure of working with Gaby presenting Gregory Porter to the Slovak audience twice. It was allways lovely and "problemlose" collaboration. May she rest in peace. My deepest condolences to you, Frank and to the family.
Everybody, who ment a lot to me, i have lost in the past, has left pains. Gaby is one of them. I have her in great memory and will stay. I could, if i have talked with her, always feel her love to music. Thank you for everything! Get rest dear Gaby! All my love to Kleinschmidt family and all around.
Sie hat uns über viele Jahrzehnte ein ganzes Universum an Musik eröffnet - und war selbst ein Stück vom Sonnenschein. Danke Gabi für ein Leben voller unvergesslicher Erlebnisse, Gastfreundschaft und Herzlichkeit.
Very sad news… Gaby was the one that introduced me into the concert world… It was at the beginning of the nineties… Art Ensemble of Chicago, Lester Bowie Brass Fantasy, the cult tour of Lester Bowie with the polish band Miłość, in later years bigger productions B.B. King, James Brown and recently Gregory Porter…. It was a wonderful collaboration that resulted in some top notch concerts… Gaby rest in peace by the music that you loved… My condolences to Frank Kleinschmidt and the whole musical family of GKP
I had the pleasure of working with Gaby for over 20 years. the list of jazz stars we have presented together is impressive. Just a selection: McCoy Tyner, Ron Carter, Benny Golson, Less McCann, Eddie Palmieri, Gonzalo Rubalcaba, Ruben Blades and more! Gaby and her company contributed a lot to the succes of the festival. Thank you for the music! Have fun up there with the legends. Sander
So viele Erlebnisse in den zurückliegenden Jahren, die es mit Gabi gab und so viele (oft unglaubliche) Geschichten. Hier eine aus den 80er Jahren. Es sollte Lester Bowie mit seiner Brass Fantasie in (Ost)Berlin bei einem Festival auftreten. Wir waren dort beide, Gabi und ich. Die Bowie-Truppe war in Tegel gelandet und musste in den Osten. Gabi bat mich, die abzuholen und via Friedrichstrasse in die DDR zu bringen. Das war eigentlich auch nicht schwierig, baer es gab innerhalb der US-Band Umbesetzungen und 2 Musiker hatten kein DDR-Visum. Nach vielen langen Verhandlungen, einigem Schweiß und kulanten DDR-Grenzern klappte das Unmögliche mit kurzfristigen Einreisen und Gabi und alle anderen waren überglücklich. Gabi hat letztlich so viele Konzerterlebnisse möglich gemacht. Auch dafür: danke....
Dear Gaby - you have a guiding star. You have been a pillar of the rare good side of the many sides of the touring biz I've come across.- a distinct reflection of the soul of the jazzmusic you represent. A kind and generous human being always to the point. Loads of work and tons of fun. Visiting your house, you busy in the kitchen taking a phone in between, but at that time of the day, cooking is your focus and priority with a house full of hungry guests, obviously primarily musicians from near and far. Peace to the Gods. My deepest condolances to the family.
Ich habe Gabi sehr gern gehabt. Ich bin traurig. Farewell Gabi ! Götz Wörner Frankfurt am Main
Liebe Gabi, ohne Dich wären ich und das Theaterstübchen nicht da, wo wir heute sind. Durch Dein Vertrauen, mir Deine hochkarätigen Künstler als damals noch unbekannten Veranstalter in der Szene anzubieten und veranstalten zu lassen, hast Du mir so viele Türen geöffnet. Deine wunderschönen Geschichten, die Du als Veranstalterin oder als Besucherin von Jazz Konzerten erleben konntest und bei denen ich immer wie ein kleiner Junge gespannt zuhörte, werde ich nie vergessen... genauso wie Dich. Danke für alles, Markus
I am very sad to hear about Gaby's passing. We haven't been in touch for a while, but those times when we worked together will always be in my heart. I am very grateful to have had the chance to meet Gaby and for the kindness, trust and opportunity she gave me to present some of my favourite shows. Rest in peace
Dear Frank, my deepest sympathy. Gaby has been a very important person in my life. Fate somehow made me land on a tour with Hannibal Marvin Peterson as an improvised road manager, which some year's later led me to work in Gaby's office. I will always remember these years and especially the first day, when I entered the house (open, no keys) and found a piece of paper on the floor while the telephones were ringing. The message said: Am on the Hohentwiel with Miles Davis. On tour are: Art Blackey, Herbie Hancock and Larry Coryell. What an introduction to the jazz world! I learned so much and had a lot of fun, also with Mike. She was a courageous pioneer, pilar and lover of jazz music, risking everything for a great project. Thank you Gaby. Michaela Maiterth
My Dear Frank and GKP family Do not be discouraged for your beloved Gaby is now with Sun Ra, June, John and a host of Angel's at the right hand of the most High....your very special guardian Angel ever watching over you with blessings of Love. May this consideration give you some solace as you fill your heart with the numerous memories snd blessings shared with a beautiful life well lived. In Deepest Sympathy Knoel
Liebe Gaby Du hast mir so viele Türen geöffnet.werde dich immer in meinem Hezen tragen. Fare well
I am so saddened to hear about my dear friend Gaby's passing. I first met Gaby in 1976 on an Alphonse Mouzon tour she had booked. We became good friends and she booked many John Lee/Gerry Brown tours thru the years. I'll always remember her kindness, honesty, attention to detail, and infectious laugh. She will be dearly missed in our jazz community. May her next journey be one of joy filled with love.
Gaby, what a great loss for the world of music, to be without you. You were my friend for over 40 years, booking tours on the continent for my artists like the late Horace Silver, Cecil Taylor, and Art Blakey. Plus, there was Gonzalo Rubalcaba, & Benny Golson. And today Ron Carter. You helped grow their careers and status for all of Europe to enjoy for many years. Because you loved jazz, you always believed in them. I know they loved you. Rest in peace dear lady. You will not be forgotten.
I was very sorry to hear about Gaby's passing ......I have met her the first time in Willisau where James Blood Ulmer performed which was sometime in the early or mid 80s ......what I remember most was Gaby's infectuous laughter and her conviction to always look at the bright side of life. There are not many like her and she will be badly missed in the Jazz Community.
Mein tiefstes Beileid an die da gebliebenen. Denkt immer an die tollen Momente mit ihr, sie hätte euch nie traurig sehen wollen. Danke für all die tollen Momente die ich mit tollen Musikern erleben durfte, dank dir. Diese bleiben in meinen besten Erinnerungen. Liebe Grüße Jan der blaue Hotelier
Liebe Gabi, heute ist es ganz still geworden in mir, in dem Moment als ich Bens Nachricht lese, dass Du gegangen bist... Du bist zweifellos eine der wichtigsten und einflussreichsten Persönlichkeiten in meinem Leben, auch einer der freundlichsten und zuverlässigsten Menschen, die ich je kennenlernen durfte. Du hast mich gefördert und herausgefordert, mir nicht nur Arbeit, sondern auch besondere Chancen gegeben, mich mit Menschen zusammengebracht, die mich wiederum so bereichert und besonders inspiriert haben. Und gelacht haben wir soviel, zusammen mit Deinen Liebsten, spätnachts im Nachgang erfüllender Konzerte. Heute Abend wird mein "last Schlückle" Dir gewidmet sein. Danke für alles.
Liebe Gabi, du hast für mich nicht nur die Türen zur Business Welt des Jazz geöffnet, sondern den Weg zu den Herzen der Menschen gezeigt - mit deiner einzigartigen Art, offenherzig, direkt und stets loyal deinen Partnern gegenüber zu treten. Jetzt war es Zeit zu gehen - du wirst eine Lücke als Pionierin im weltweiten Jazz hinterlassen, als eine Persönlichkeit, die es im Geschäftsleben so nicht mehr gibt. Adele, der Mike hat bestimmt schon sehnsüchtig gewartet. Bussi
Liebe Gabi ich wünsche dir eine gute Reise 🙏🏼 Mein herzliches Beileid 🖤 ich wünsche der Familie viel Kraft
In trauriger Anteilnahme.... Claus Boesser- Ferrari
Liebe Gabi, danke für die vielen tollen Musiker, die ich durch dich kennenlernen durfte. Jedesmal wenn ich die Musik von Roberta, Roy, Marshall Allan, Eddie, Maynard, Ron, ... hören werde, werde ich auch an dich denken. In love Willi
Für mich persönlich war Gabi tatsächlich eine Art Schlüsselperson in meiner Biografie, weil ich an ihrem Vorbild immer sehen konnte, wie sehr ein Herz am richtigen Fleck hilft, jene Musiker, die wir in unserer Leidenschaft für den Jazz doch alle so verehren, als Menschen mit ganz normalen Bedürfnissen, Ängsten und Eitelkeiten zu erkennen. Ich habe ihr in dieser Hinsicht wirklich viel zu verdanken, denn diese Erkenntnis hat meine Begeisterung und mein Verständnis für diese Musik und ihre Protagonisten nur wachsen lassen. Dass Sie darüber hinaus eine beschämend unterschätze Pionierin des Jazz in Deutschland und Europa war, lässt ihr Vermächtnis nur noch mehr strahlen.
Wir möchten Den gesamten Familien Angehörigen unser Beileid aussprechen und Der liebe Herrgott möge sie beschützen in alle Ewigkeit. Christel + Charly Antolini JAZZPOWER
My Dearest Gaby, Mere words are not sufficient to express my Love & appreciation for your support during our nearly 50 years of working as a Family(You,Mike,Frank,Marret,Roberta,Roy) to promote this Jazz Music that we love so much. It is my hope that we will be able to continue this work in your honor for many years to come. Larry
Gabi,I will always remember you as the simple, hospitable person who opened his doors, his connections, his heart to my music and to the music of many great jazz artists. I send my most sincere condolences to my dear friend Frank Kleismidt and to all the great family of musicians and music lovers that GKP created. I want to honor the great visionary and promoter of Jazz in Europe . Dear Gabi Rest in peace .
Dearest Gaby, words can't express how much I will miss you. You were ( you are) a phenomenal woman. I will forever miss your kind, loving and caring spirit, your friendship and support. You, Mike and Frank were so wonderful to me , and I always felt that we were family. I will forever be grateful for the beautiful time spent together, and will cherish the great memories we made through the years. Grazie Gaby, ti voglio bene.
Gaby wie schön dass wir noch ein paar Stunden zusammen bei einer Fahrt durch den Schwarzwald hatten. Frank erfüllte dir damit einen ganz persönlichen Wunsch, und ich bin unendlich dankbar für diese Stunden mit dir an deren Ende dein: "Ade, hoppla Guet Nacht" war" danke und bis bald, deine alte Freundin Lisa
"Unsere Gabi" hat den Blauen Planeten verlassen. Bye, bye Baby where ever you may be - we may surch the whole world over - we´ll never find a girl like you! (St. James Infermary). Muddys Club & die Beyond Blue Connection verdanken ihr unzählige einmalige, aufregende Begegnungen mit ihren großartigen Künstlerinnen und Künstlern.Unvergesse Momente des Glücks. Meine Frau und ich haben nicht nur unsere Trauzeugin verloren sondern auch unsere beste Freundin.Fairwell Sweetheart.
Gaby Kleinschmidt ist ... man kann es noch nicht aussprechen, sie ist nicht mehr da. Ihre unternehmerische und künstlerische Leistung für die Jazz-Welt kann man ohne weiteres neben die von Norman Granz und Marta Glaser stellen. Sie hat in einer Zeit, als der Jazz in Deutschland nur in düsteren Clubs gespielt wurde und in den USA noch die Hautfarbe über den Zutritt entschieden hat, für unzählige Musiker in Europa die Türen zu den großen Konzertsälen geöffnet.... und das nicht nur in den Großstädten wie London, Paris, Berlin und Moskau, sondern auch in Kleinstädten wie Tuttlingen, Rottweil, Singen und Friedrichshafen ... Viele nannten sie die "Mutter des Jazz", weil bei ihr die liebevolle Betreuung und Umsorgung der Musiker oberste Priorität hatte, ebenso weil sie ihnen auch ihr Zuhause geöffnet hat, damit sie sich von den Strapazen der Tourneen erholen konnten. Gaby we miss you ! May you rest not only in Peace but with the Music you love !
Gabriele Kleinschmidt Promotions
GKP Promotions is one European's most leading Jazz Agencies for over 45 years. Gabriele Kleinschmidt started the company in 1974 and has organized tours for the greatest Jazz artists in history. Since a few years Gabriele has expandend her team with a leading role for her son Frank Kleinschmidt, strengtenth by the help of booker and manager Marret de Boer.
GKP Promotions organizes highly succesfull European tours, with a complete tour plan and full support for the artists wherever needed.
Please check our available ARTISTS and TOUR OFFERS as well as our extented PROFILE and list of REFERENCES for a more detailed background of GKP Promotions!